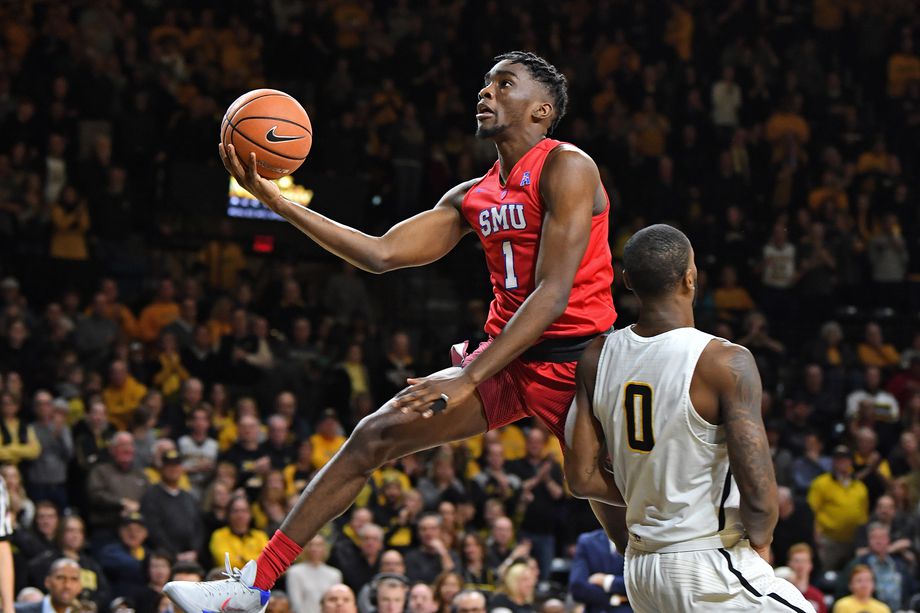 WICHITA, Kan. — Wichita State should be used to getting everyone's best shot by now.
Gregg Marshall's Shockers are a perennial NCAA Tournament team that has won 30 or more games in four of the last five seasons. They were ranked seventh in this week's AP poll and figure to go deep in March after being listed as high as a No. 2 seed in most mock brackets.
But very few foresaw what was coming on Wednesday night.
Shake Milton, SMU's 6-6 junior point guard, shook Charles Koch Arena to its core, scoring a career-high 33 points as the Mustangs outlasted the Shockers, 83-78, in a huge American Athletic Conference game before a shocked sellout crowd of 10,506. Milton was on fire, shooting 11 for 14, making 5 of 6 threes and all six free throws. He also had five assists and just two turnovers while playing all 40 minutes as the Mustangs snapped Wichita State's 27 game winning streak at Koch Arena.
The Shockers (15-3, 5-1 American) had won 67 of 68 games at the Roundhouse. "As a coach, you need to be perfect or near perfect to win here because nobody ever wins here," SMU coach Tim Jankovich said. "But Shake was better than perfect.
"I don't know how you play better than that. Shake controlled the game, not just scoring in bunches. He had control of everything. How many guys have played better than that this season?' I'm sure there haven't been many but then again, I don't watch many games on TV."
Milton never showed any signs of fatigue at the end of this huge upset. "He never wants to come out," Jankovich said. "And I'm not going to argue with him. He's been through a lot of wars for us."
Milton's individual brilliance brought out comparisons to the way Oklahoma freshman guard Trae Young played against the Shockers earlier this season when he scored 29 points against Wichita State. And the performance may have solidified Milton as a first-round NBA draft pick. Milton makes big shots, is a good passer and has the size and quickness to defend multiple positions.
SMU (13-6, 3-3), which only returned three players from last year's 30-5 conference championship team, came into this game hungry after dropping three straight conference games, two in the final possession.
"We need to go into every game thinking it's do or die, teaching our young guys that every game counts," said Milton, a three-year starter. "They get that concept and we are going to be alright. As for me, just knowing it would be an environment like this, that the fans would be crazy, was motivation enough."
SMU also got 16 points and four threes from guard Jahmal McMurray. The Mustangs shot a sizzling 63.8 percent, made 11 of 22 three pointers, 12 of 16 free throws and had 24 assists on 30 field goals. Big-bodied 6-9 freshman center Ethan Chargois, who missed the Tulane game with the flu, had 12 points and forward Ben Emelogu added 10.
Landry Shamet, Wichita State's sensational All-America point guard candidate, led the Shockers with 20 points, but the Shockers couldn't get consecutive defensive stops when the game was on the line.
And they had no answers for Milton.
"Every time we made a bucket, he'd come down and make a big shot," Shockers guard Connor Frankamp said.
The Shockers rallied from a 70-57 deficit with 4:33 left to make it a one possession game twice in the final minute. But they could never get over the hump. "In the end, they really had tremendous play-makers that made great plays," Wichita State coach Gregg Marshall said. "They kept throwing dagger, dagger, dagger. We would get it down to four, three, two. Every time we'd make a play, and they would hit another big shot. We seem to bring out the best in some teams shooting the basketball. Some of that's us. But you got to give them credit, their ability to come in here and make shots.  It was a great shooting performance. We gave up 83 points. That's got to get better."
"We shot the lights out," Jankovich said. "We made a lot of shots with the shot clock running down. We have a very good shooting team when we're getting good looks. I thought our execution was terrific and Shake had a lot to do with that. He made a lot of good decisions and found guys."
Credit Jankovich with an inspired game plan against an excellent coach on the opposite sideline. The Mustangs, who rarely use zone, confused the Shockers by playing zone the entire game, partly out of necessity after Jarrey Foster, SMU's second-leading scorer, went down with an injured knee less than six minutes into the game and did not return, and both Emelogu and Chargois both had four fouls with 10 minutes to go. The decision helped the Mustangs shorten the game. They also did a good job working the shot clock, then breaking down the Wichita State defense if they didn't score early on possessions.
SMU wound up re-entering the NCAA discussion after defeating an offensively-efficient team that shot 53.6 percent in a loss and has enough talent and depth to make a run at the Final Four. The Mustangs have a marquee neutral site victory over Arizona in the Bahamas, a huge road win here and two other noticeable wins against Boise State and USC. They also have two upcoming meaningful home conference games against top-10 Shockers and Cincinnati.
And in Milton, SMU has a leader who has no intentions of letting his team fade away.