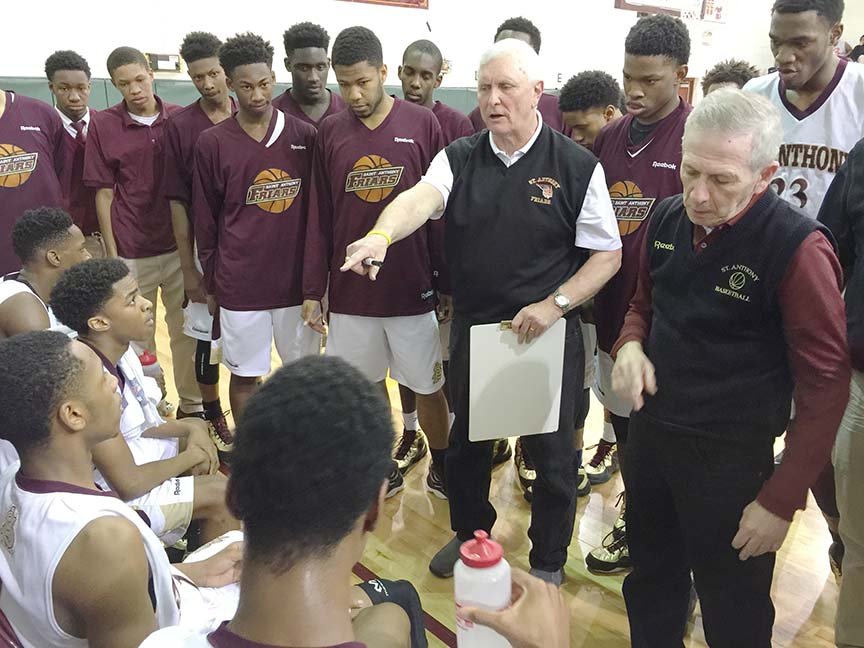 St. Anthony of Jersey City, the tiny Catholic high school located near the mouth of the Holland Tunnel and the home of one of the most famous prep basketball programs in the country, will close its doors this June because of a lack of funding and dwindling enrollment. The announcement was made today by school principal and Naismith Hall of /Fame coach Bob Hurley, Sr.
This is a sad day for high school basketball.
The Archdiocese of Newark came to the decision meeting when they met with St. Anthony officials earlier on Wednesday, determining that St. Anthony's furious fundraising efforts were not enough to overcome its crippling financial issues. The closure comes months after the school announced last fall that this year could be its last unless the $10 to $20 million was raised to establish an endowment. Hurley was hopeful this January enough progress had been made to keep the school open for another year with rising enrollment and increased tuition. But the miracle never transpired.
St. Anthony opened in 1952, and Hurley took over as head basketball coach in 1972. Over the next 39 years, he built the Friars, who played in the Parochial B division, into the most powerful team in New Jersey and arguably the most successful program in the nation. The Friars won 28 state titles with Hurley as the coach.
Hurley's undefeated1989 team, that featured Jerry Walker, Hurley's son Bobby, Terry Dehere and Rodrick Rhodes, was ranked first in the nation by USA Today. Three players on that team, Bobby Hurley, Dehere and Rhodes, were first round selections in the NBA draft. That team won New Jersey's first Tournament of Champions and won 50 consecutive games in a two-year period and is generally considered one of the best teams in New Jersey state history. The Tournament of Champions has been played 28 times, and St. Anthony won 13 of them. That includes the 2016 season when the Friars went 32-0, the eighth Hurley team to go undefeated.
Three more of Hurley's teams won national championships, and in 2010 he was inducted into the Naismith Memorial Basketball Hall of Fame, the third high school coach in history to be so honored. He was named the USA Today National Coach of the Year in 1989, 1996 and 2008. In 2011, he became the 10th coach in high school basketball history to reach the 1,000 win plateau. More than 200 St. Anthony basketball players have gone on to play in college, with more than 150 doing so with a scholarship.
Bobby Hurley Jr., a former All America point guard at Duke, is the head basketball coach at Arizona State; and Danny Hurley, who played at Seton Hall and is the head coach at the University of Rhode Island.
St. Patrick's of Elizabeth, arguably St. Anthony's biggest rival, closed in 2012 before reopening independent from the archdiocese as Patrick School.