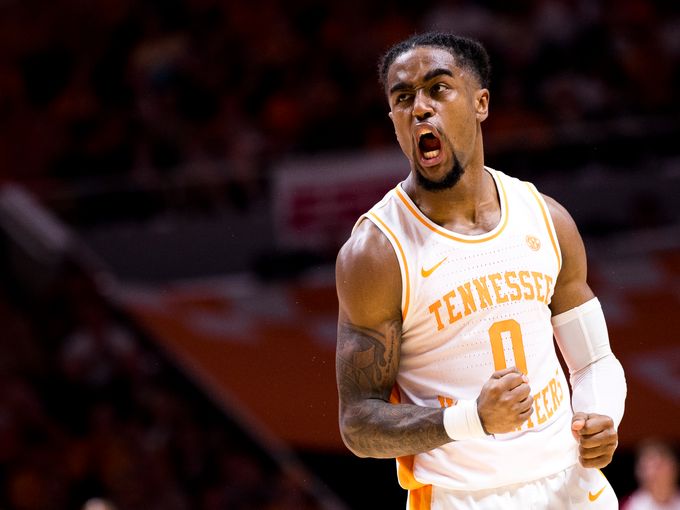 Gonzaga that was selected No. 1 seed in the West by the NCAA Selection committee moved up a spot in my poll this week after crushing WCC rival St. Mary's 94-46 Saturday.
But it wasn't all good news for the Zags. Starting 6-10 forward Killian Tillie from France did not play against the Gaels and is out indefinitely after suffering a torn ligament in his right foot earlier in the week against San Francisco. He missed the first two months of the season with a foot injury and has played just nine games.
This year college basketball has been continuing to be unpredictable with four teams seeded by the NCAA mid-season Top 16, Virginia (1), Iowa State (4), Wisconsin (4) and Louisville (4),  all lost over the weekend.
Tennessee (22-1)
Duke (21-2)
Gonzaga (24-2)
Kentucky (20-3)
Virginia (20-2)
Michigan (22-2)
North Carolina (19-4)
Houston (23-1)
Michigan State (19-5)
Marquette (20-4)
Purdue (17-6)
Nevada (23-1)
Villanova (19-5)
Kansas State (18-5)
Kansas (18-6)
LSU (19-4)
Louisville (17-7)
Wisconsin (17-7)
Florida State (18-5)
Texas Tech (19-5)
Virginia Tech (18-5)
Iowa (19-5)
Iowa State (18-6)
Washington (19-5)
Cincinnati  (20-4)
Bracket Watch – NCAA Tournament Seeds
Top Four Seeds by Region
EAST                        SOUTH                        MIDWEST           WEST
Duke                         Tennessee                   Virginia                 Gonzaga
Michigan State       Michigan                     North Carolina    Kentucky
Marquette               Houston                       Purdue                  Nevada
Louisville                Villanova                      Kansas State        Kansas