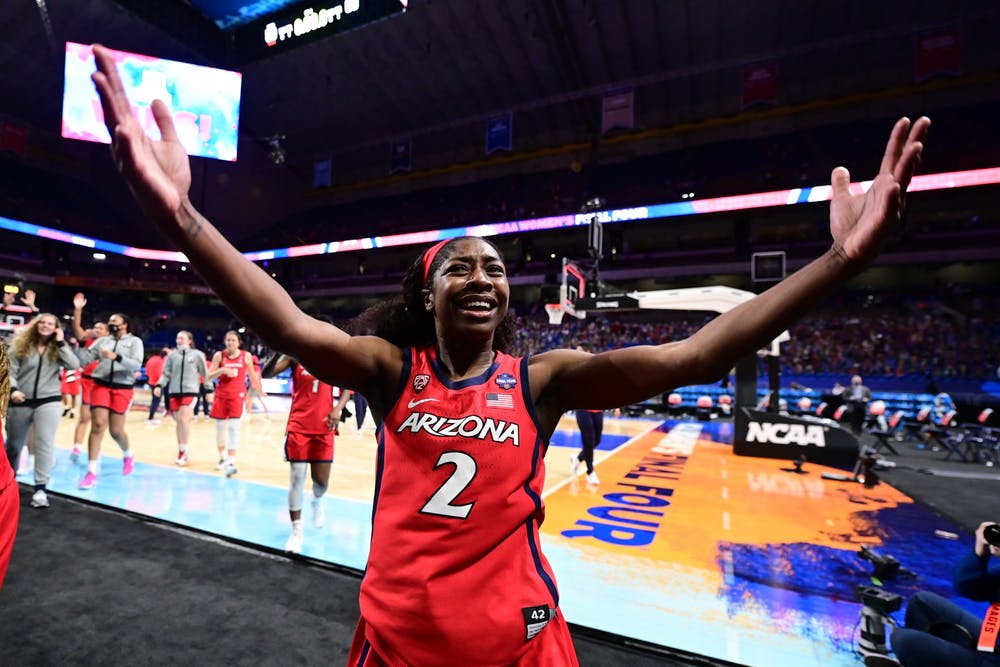 Stanford has won national championships before and Pac 12 rival Arizona was inexplicitly left out from the commercial ESPN promoting their broadcast of the NCAA Tournament that had aired prior to semifinal game against UConn. But the Wildcats were unfazed and crashed the party.  They will play Hall of Fame coach Tara VanDerVeer for a National Championship.
Aari McDonald ripped off 26 points as the Wildcats led wire to wire against a young but heavily favored Connecticut team that was making its 13th straight trip to the Final Four during a convincing 69-59 victory at the Alamo Dome. Arizona will play Pac-12 rival Stanford for the national championship Sunday night at 6.
"She's the best guard we've played against all year,'' UConn coach Geno Auriemma admitted.
The Wildcats played stifling defense and took normally dominant freshman sensation Paige Bueckers out of her game to secure their first championship appearance with their first ever win over an AP No. 1 ranked team.
"We shocked the world,'' McDonald said. "Keep betting against my teammates and I, and my teammates, will prove you wrong.''
The Cats certainly were shocked Connecticut. "I think we came out with the wrong mentality,'' Huskies' forward Krystin Williams said. "I thought we thought it was going to be easy. I guess, and we got flustered. They had great ball pressure. It wasn't like anything that we've seen before this season. We just couldn't get into the flow.'''
Arizona used its exclusion from the video as bulletin board material. At one point, late in the game, Arizona coach Adia Barnes was shown in the huddle, using some choice words to get her point across. "The cuss word was basically, 'Forget everybody,''' Forget everybody, if they don't believe in us because we believe in ourselves.''
Barnes, who played at Arizona, has turned her program around. They never let the name on the Connecticut uniforms bother them, taking it to the Huskies from the start. "I've been an underdog all my life,'' Barnes said. "Too small to do this to do that, too inexperienced to do this. We prove it wrong every time. It motivates me and my team.''
UConn never responded, losing its fourth straight Final Four semi-final. Bueckers finished with a quiet 18 points on 5 of 13 shooting in the final game of her freshman year. And no one stepped up to help her. Arizona contested 15 of UConn's 25 field goal attempts in the first half and held the Huskies to 3 for 15 shooting on those attempts. They were 1 for 11 on layups.
"I've said all along this year we have a very immature group, not just young,'' Auriemma said. "When we're high and when we're on top of the world, we think everything's great. When things don't go our way, there's poutiness about us, there's a feeling sorry for ourselves about us that you don't win national championships when you're like that unless you get lucky.
"I've been down this road before, I do think that these games do tend to stay with you a little bit longer. I would say, at least on my end, I'm going to be coaching in the Final Fur next year on April 2, whatever the date is.''
He should be better prepared for the journey with the addition of guard Azzi Fudd, the national high school player of the year and a generational player who should be paired with Bueckers in the backcourt. But last night was a nightmare where the Huskies just couldn't get to the finish line again. Most programs would be happy with getting to a Final Four But Connecticut wants to hang banners.