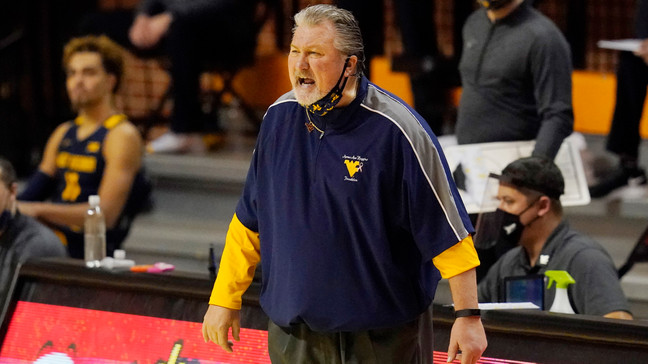 PHILADELPHIA– In a Midwest power league like the Big 12, which has been dominated by Kansas and its Hall of Fame coach Bill Self and includes second-ranked Baylor and six more teams that have a shot to make the NCAA brackets if Oklahoma State is eligible, it is easy to overlook Bob Huggins of West Virginia
It shouldn't be.
The school in Morgantown may be a 10 hour drive from its closest league rival, Iowa State, but West Virginia has learned how to navigate long road trips since leaving the Big East to enter the all-sports Big 12 in 2012-13.
Huggy Bear, who has coached college basketball for 41 years, deserves to be in the Naismith Hall of Fame, much like Jay Wright of Villanova and Mark Few of Gonzaga for the way he rejuvenated a stories Cincinnati program, then followed up on John Beilein's success at West Virginia by taking the Mountaineers to the 2010 Final Four and transferring them into a perennial NCAA second weekend program. He is averaging close to 23 wins a season. He should have 900 victories by the end of the season and has his team primed to take another deep run in March, much like 2015 and 2016 when the Mountaineers were known as Press Virginia. Huggins' latest success story comes in the wake of the unexpected departure of 6-9, 260 pound sophomore forward Oscar Tshiebwe, a McDonald's All American who is originally from the Congo left after first semester and eventually resurfaced at Kentucky.
Tshiebwe was considered one of the best freshmen in the country last season and seriously considered putting his name in the NBA draft. But his scoring dipped to 8.5 points this season as 6-10 Derek Culver and guard Miles McBride took on starring roles. Huggins tried to be diplomatic when Tshiebwe left, but he did mention outside influences that have facilitated the transfer.
"I think it's the world we live in," Huggins said. "It's better to steal than to work and earn things. It is take the easy way out, and I think there were some people involved where they could benefit, maybe profit, and worked very diligently at trying to get him out."
Huggins had to completely change how the Mountaineers play, going to a four out style offensively that highlights the three point shooting ability of McBride, Taz Sherman and occasionally Sean McNeil, who scored 26 recently in a win over Texas Tech in Lubbock, and guarding more aggressively on the perimeter. West Virginia hasn't missed a beat in this pandemic season, coming off a three- game pause to win five of their next six games, sweeping Texas Tech and beating Kansas.
"I think they're tired of hearing about all the other stuff," Huggins said. "This is our team– this is West Virginia's team. They're tired of hearing about– it's seemingly every time you turn on television, they want to talk about who's not here rather who's here and it gets on their nerves. I think it's a lot of things. I think that's been motivation for them to show people. 'Hey, listen, we're pretty good."
Especially McBride, a sophomore who is one of the best guards in America, is from Cincinnati Archbishop Moeller High where he was a highly recruited quarterback and the starting point guard on the same team as future lottery pick Jaxson Hayes. But McBride broke his leg early in his senior football season and opted to sign a basketball scholarship. He has quickly drawn comparisons to former West Virginia star Jevon Carter for his ability to close out games.