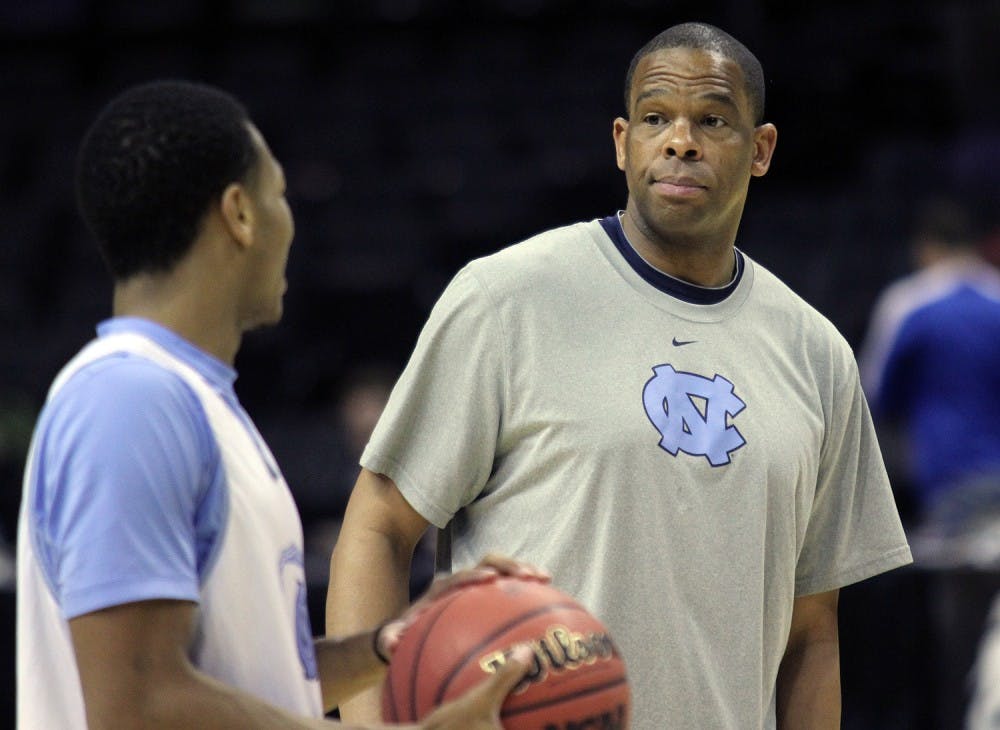 INDIANAPOLIS– The University of North Carolina has selected Hubert Davis to replace Roy Williams as head coach at that celebrated ACC program.
The 50 year- old Davis becomes the latest branch from the Dean Smith celebrated coaching tree and the first black coach at the school. He played for the iconic Smith from 1988-91 and was a star guard who made 45.5 percent of his three- point attempts in 1991 when he helped lead the Tar Heels to the Final Four. He is the nephew of Hall of Famer Walter Davis and became part of Carolina folklore when the faithful would shout, "Hubee," anytime he made a shot from beyond the arc at the Smith Center.
Davis played in the NBA for 12 years, spent a year as a player development coach with the NBA Dallas Mavericks in 2004 before taking a job as ESPN analyst for seven years. He returned to Chapel Hill in 2012, spending nine years as an assistant on Roy Williams' staff when the Heels advanced to the Final Four twice and won another national championship in 2017. During his time at Carolina, he coached the school's jayvee team to get bench experience.
Williams personally recommended Davis for the job when he retired last month.
UNC AD Bubba Cunningham kept the search within the Carolina family, interviewing eight candidates, including two, Steve Robinson and Jared Haase, who did not play for the school. Robinson and Davis were assistants on Williams' staff. Haase, who played for Williams at Kansas, is the current Stanford coach. Cunningham also spoke with Wes Miller from UNC-Greensboro, Jerry Stackhouse from Vanderbilt, and King Rice of Monmouth before deciding on Davis.
"I am honored and humbled to be given the opportunity to lead this program,'' Davis said in a video released by the school. ''I would not be here without Coach Dean Smith, Coach Bill Guthridge and Coach Roy Williams, they taught me so much, and I'm eager to walk their path in my shoes and with my personality.''
Terms of his contract will be released later.
Davis does not have prior head coaching experience on the Division I level.  However, he was groomed in the same way that Williams once learned as an assistant under Smith. Williams chose Davis to coach UNC's junior varsity team so he could become accustomed to make decisions as a head coach in real time.
"Hubert Davis is the best leader we can possibly have for our men's basketball program,'' Cunningham said. "He has a tenacious, burning desire to be the best he can possibly be; we witnessed that when he was a player, a broadcaster and an assistant coach. And I have no doubt he will ensure our student-athletes and program will be the best they can be, as well.''
Cunningham has reached out to former players with coaching experience to provide Davis with the support he needed. One, George Lynch, Davis' former teammate and a member of the 1993 national championship team, has already expressed his interest. Lynch served two stints on the staff at SMU during the tenures of former Tar Heels' Matt Doherty and Larry Brown.
The 70 year- old Williams, who, like Smith, has been inducted into the Naismith Hall of Fame, retired after 18 seasons at Carolina. He won 903 career victories in a 33-year career and three national championships in 2005, 2009 and 2017. He leaves big shoes to fill.
Davis will be under a huge microscope. At least, he knows the territory. "I played here. I earned my degree here I felt in love with my wife here I got married here,'' Davis said. "I moved here after I retired from the NBA and I raised my family here. I'm proud to lead this team and I can't wait for all that comes next.''