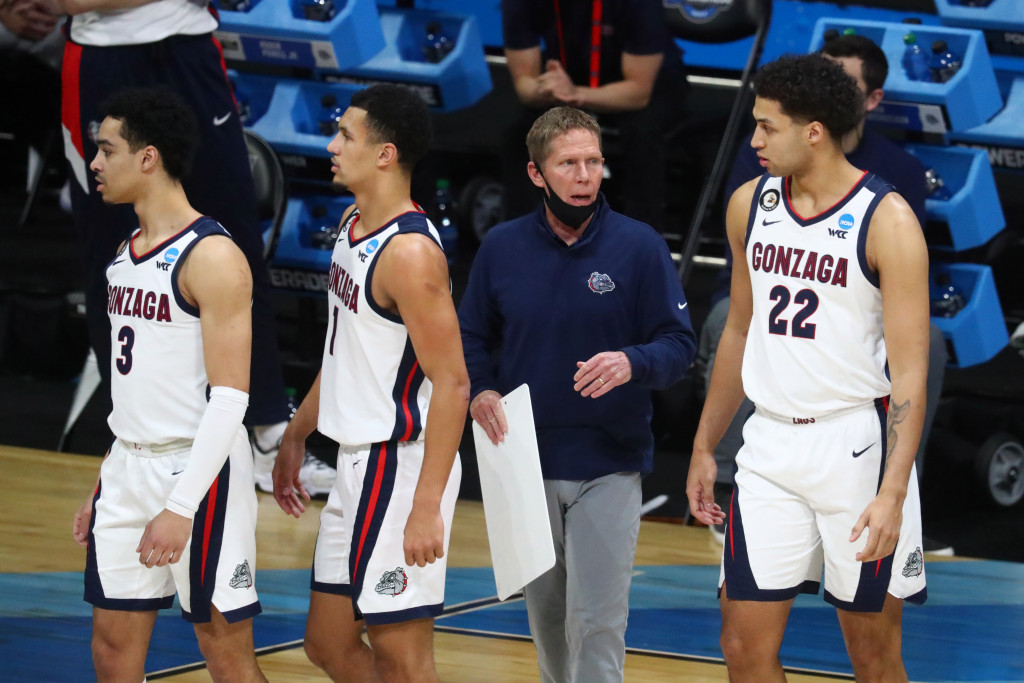 Gonzaga is knocking on the door of history.
They are three games away from becoming the first team since Indiana in 1976 to finish the season unbeaten. There have been others they have been close. Indiana State in 1979, UNLV in 1991, Kentucky in 2015. But they could not reach the finish line.
But these Zags are different. They have won 29 straight games, 28 by double figures, after embarrassing a good Creighton team, 85-63, in a Sweet 16 game in Indianapolis. They have four NBA players in the starting lineup—center Drew Timme and guards Corey Kispert, Jalen Suggs and Joel Ayayi. Three of them—Kispert, Suggs and Timme—who were selected to the AP All America team.
The Zags are gifted shooters on offense who share the ball and play for each other and now how to cut and pass. And they have shown they can play tenacious defense. The 6-10 Timme just waltzed to 22 points with no resistance against Creighton and his moustache has become the talk of the network studio shows with all the analysts wearing fake moustaches. Guard Andrew Nembhard, a transfer from Florida who has played his way into the starting lineup, finished with 17 points, eight assists and only one turnover for the Zags, who shot 59.6 percent and made nine threes.
"I don't think we have peaked,'' Nembhard said. "I think as I said earlier, we can always get better. We can always work on our stuff. So I think we're getting close, and we need to squeeze out that five percent that we talked about.''
This was pretty close to a clinic. Aren't they all?
The Zags made it look so easy against a Big East team that made the mistake of choosing to run with them and play the full court. "It's something we hammer down in practice,'' Timme said. "We believe as long as we play way capable of, no one can touch us.''
The Zags are averaging 89 points in this tournament and have dispatched of three overmatched opponents by an average of 16 points. The Zags held the Blue Jays to just 40 points over the final 30 minutes, methodically turning a 27-25 lead into a blowout.
"This isn't a one trick pony,'' Creighton coach Greg McDermott said. "These guys can play at both ends of the floor.''
The easy part is over. There are still three teams capable of disrupting the Zags pilgrimage to destiny. USC, Gonzaga's next opponent, looked impressive in its win over Oregon and has enough size in its enigmatic zone to bottle up Timme and force Kispert and Suggs to make shots. Baylor, a 1 seed, can make the Zags uncomfortable with a guard line of Jared Butler, Davion Mitchell and MaCio Teague, who are not only the nucleus of the best three- point shooting team in the country, but also has the ability to ratchet up their defense, which turned 16 Villanova turnovers into 22 points during a 62-51 Sweet 16 victory. And Michigan, another 1 seed which blew away taller Florida State, has enough size in the middle with 7-1 freshman Hunter Dickinson and defensive organization to make Gonzaga work for its points in a grind it out game.
"It's been absolute joy to coach them, but there will be no more good nights of sleep here in the bubble,'' Few said. From here on out, these are all going to be really, really, hard games.''
There is always a chance the Zags, who are not a deep team, could struggle if one or two key players get into foul trouble.
But don't tell that to Creighton, which couldn't find any vulnerability. 'They just play so fast, so efficient with everything they do,'' said Creighton guard Marcus Zegarowski, who led the Jays with 19 points'' There are no lapses. You just can't take, not even a play, you can't take a second off or they're going to make you pay.''