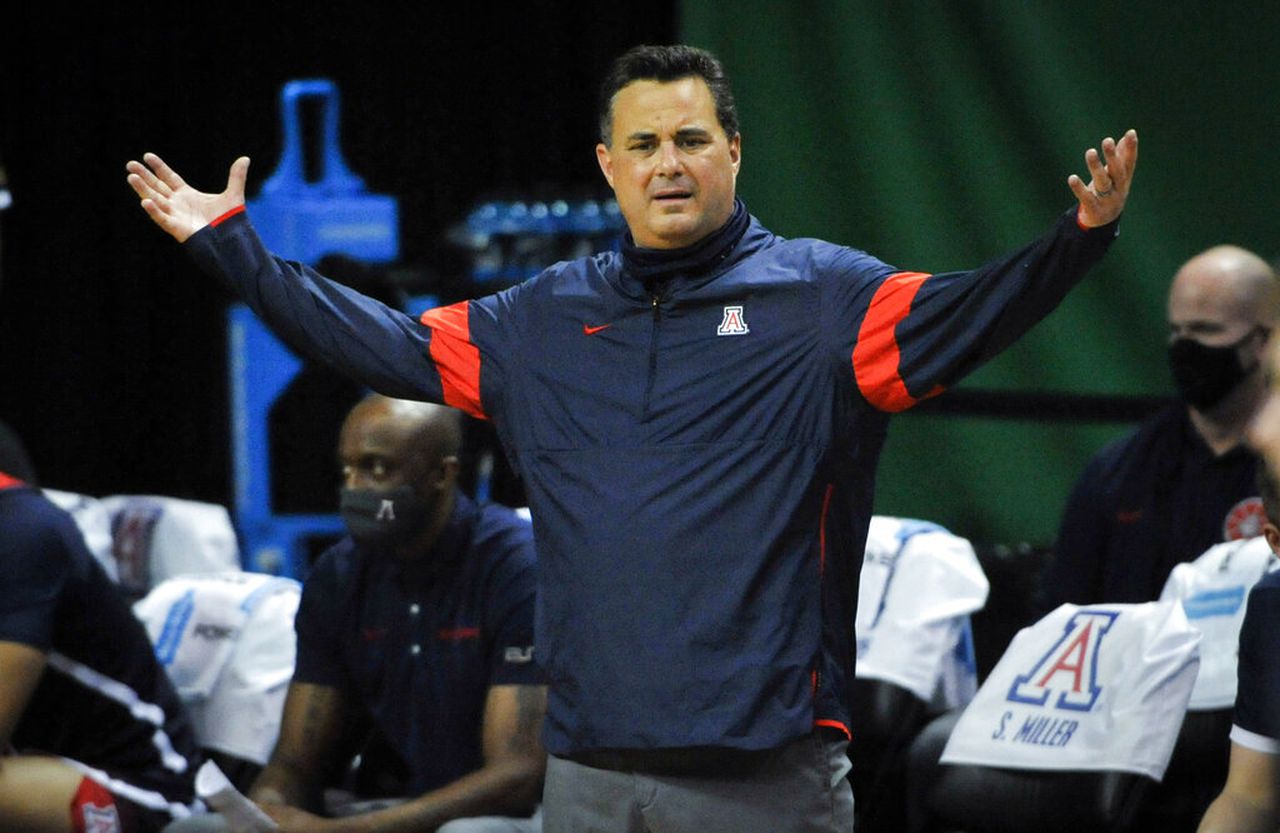 The Arizona Wildcats will no longer be coachced  by Sean Miller.
Miller's contract had not been extended since 2017, when the FBI announced its investigation in college basketball, and zeroed in on the Pac-12 power.
The Wildcats went 17-9 this past season but were not eligible for the Pac-12 or NCAA tournament due to self- imposed penalties. Miller had one year left on his contract when the hammer dropped. Associate head coach Jack Murphy will run the program until a replacement can be found.
Miller, 52, led the Wildcats to five Pac-12 regular season titles, three NCAA Elite Eight appearances and two Sweet Sixteens. He won 73 percent of his games since taking the job in 2009. He had been haunted by off the court issues since the FBI investigation into corruption in college basketball that linked him to five Tier One violations, including allegations of academic misconduct, a bribery scheme and the cover-up of a loan. Arizona released the NCAA notice of allegations in March after being ordered to by a court.
The notice alleges nine violations including lack of head coaching responsibility against Miller and lack of institutional control against the school. The 22-page document alleges Miller did not promote an atmosphere of compliance or monitored his staff.
Miller, according to Stadium, met with university president Robert Robbins and athletic director Dave Heeke Tuesday, but the administration failed to reach a final conclusion. The three met again Wednesday and after meeting the school decided to part ways with Miller.
"We appreciate Sean's commitment to our basketball program and to the university,'' Heeke said. "After taking the many factors into account, we simply believe that we need a fresh start and now is the time.''
The big question for Arizona is this: What took you so long and why did the administration stick with him for four years. Arizona actually pushed for an extension, but the Board of Regents rejected it because of ongoing NCAA issues.
There is also the question as to when the NCAA will finally deal with LSU coach Will Wade and Kansas Hall of Fame coach Bill Self, who both are under investigation. Self recently signed a lifetime contract with the Jayhawks.
The allegations single out former assistant coaches Emanuel "Book'' Richardson and Mark Phelps. Both were accused of arraigning for false or inaccurate transcripts between March 2016 and Sept. 2 for two prospective athletes who needed to meet NCAA requirements.
The NCAA alleges at the beginning of 2016, Richardson arrange to for and paid $40,000 to obtain academic credit or a fraudulent academic credits or false academic transcript for a men's basketball prospective athlete. The transcript was needed to meet eligibility standard. The prospect enrolled and competed, including in post season competition. The NCAA refused to disclose his name.
Richardson pleaded guilty to one felony count of conspiracy to commit bribery and did three months in prison after being accused of accepting $20,000 to steer Arizona players to aspiring sports agent Christian Dawkins. During Dawkins trial, prosecutors played a tape of a wiretap in which Richardson told Dawkins that Miller was paying $10,000 a month for former player DeAndre Ayton. Miller has consistently denied paying players to attend the university.
The NCAA alleges Phelps in June of 2017 loaned an athlete $500 to buy a plane ticket.  The athlete paid him back the following month, but the load was not permitted under NCAA rules. The NCAA alleges Phelps directed the athlete in question to delete a text file to cover up the transgression.
Miller has his defenders. Last month, former AU star Richard Jefferson defended Miller. "I'm a Sean Miller guy,'' he said.
As recently as March 8, Robbins gave Miller a public endorsement, claiming AU had a good young team and the school was eager to move forward and get the final chapter of this saga over.
Miller was under contract through the 2021-22 season. He made $2.5 million plus $200,000 from Nike and IMG. The school will honor the remainder of his contract.
Arizona self imposed a one year post season ban this season, but big things were expected from the Cats in 2021-2022. They had been ranked as high as 11 in one pre-season poll. Now it looks like it could be a total rebuilt in a league that flexed its muscles in the recent NCAA tournament—placing UCLA in the final Four and two more teams, USC and Oregon State- in the Elite Eight.
Arizona is considered a plum job and should attract some big names. Former Arizona star Damon Stoudamire of Pacific, Josh Pastner of Pacific, former UA star and NBA coach Luke Walton, Eric Musselman of Arkansas, Gonzaga assistant Tommy Lloyd, former UA star, Lakers' assistant Miles Simon and BYU head coach Mark Pope are early names in the sweepstakes.