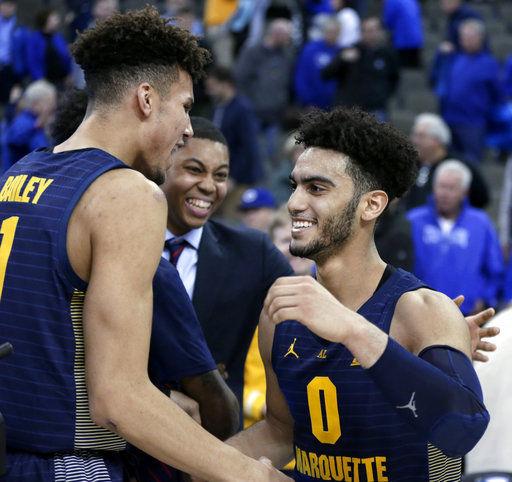 Zion Williamson of Duke is a generation talent seems like an obvious choice for the No. 1 pick in the 2019 NBA Draft, but Marquette junior guard Markus Howard has been putting up the type of numbers that should push him into the discussion of national Player of the Year.
Howard, who came to Marquette as a point guard, just went off for a BIG EAST record 53 points, draining 10 three-pointers and adding six assists in a 106-104 overtime win against Creighton last week. He shot 15 for 26, 10 of 13 from the beyond the arc, and 13 for 15 from the foul line. He also scored 14 points in the five-minute overtime period against the Bluejays. The 5-11 junior did make some mistakes turning the ball over nine times, but with the other eye-popping numbers, who cares?
Howard has already dropped 45 points in two other games this season, first against no.12 Kansas State Dec. 1, then against Buffalo, Dec. 21. He also scored 52 points in a win against Providence last season, becoming the first Division I player in the last 20 years to have multiple 50-point games. Howard now has the four best scoring games in Marquette history.