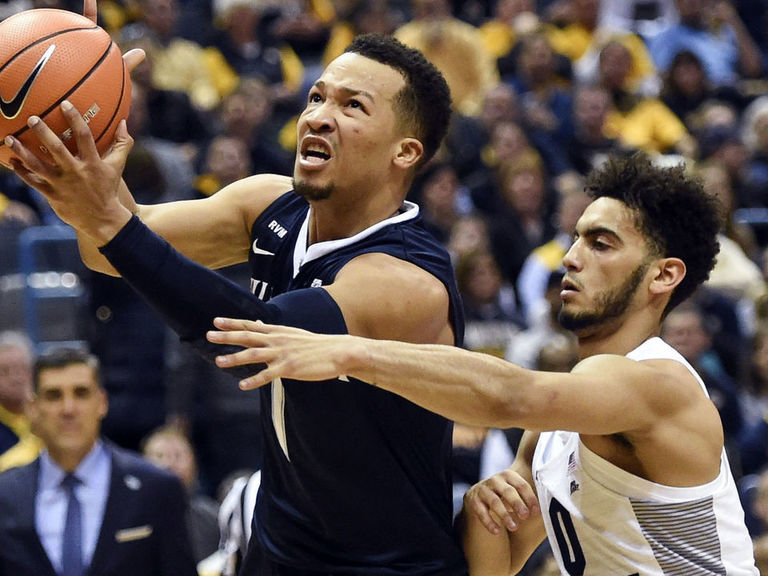 The bodies keep dropping at top-ranked Villanova.
But Jalen Brunson keeps finding ways to help the top-ranked Wildcats survive in high scoring games in the BIG EAST.
The 6-2 junior point guard scored 31 points despite briefly leaving the game in the second half with a turned ankle as Villanova (20-1, 7-1) fought past Marquette, 85-82, in Milwaukee, despite a thin rotation that has dropped to seven after freshman wing Jermaine Samuels was lost for the season with a broken hand and starting guard Phil Booth is out for at least four weeks and maybe longer with a broken hand.
Brunson is quietly playing his way into strong consideration for the national Player of the Year with his intelligent, dominant play and ability to take over the game when needed.
Villanova coach Jay Wright has his team playing an efficient offense that constantly creates and exploits mismatches with ball screens that set up one on one situations for players like Brunson, red shirt junior forward Mikal Bridges and red shirt sophomore guard Donte DiVincenzo, who all have NBA ability to take their defenders off the bounce to get to the basket.
DiVincenzo, a 6-5 guard who started in place of the Booth for a second straight game, scored 23 points for the Cats, who shot 48.2 percent and made 19 of 24 free throws to get by the Eagles (13-8 4-5).
The Cats, who have struggled to defend Marquette in both league games this year, benefited from the fact guard Markus Howard, who scored 37 points against Villanova in a 100-90 loss at Wells Fargo earlier in the month, picked up a fourth personal with 13 minutes and missed all seven of his field goal attempts in the second half.
Having said that, the Cats cannot afford to lose another key player if they want to make noise in March. That is why Brunson's injury caused such concern among the staff after he turned his ankle after falling to the floor and asked to come out of the game. He came back two minutes later, but not before some nervous moments as he limped off the floor. Brunson apologized to Wright afterwards.
When it happened, I thought I was in trouble," Brunson told his coach.
Villanova was clinging to an 83-80 lead with 1:17 to play, but Marquette had the ball. But freshman guard Collin Gillespie stripped a driving Sacar Anim under the basket with 49 seconds to play and got the ball to Brunson, who missed a three at the other end. Bridges came up with the offensive rebound and led DiVincenzo underneath for a layup with 15 seconds left to lock up the game.
"We found out what it is to play 40 minutes of Villanova basketball, not to have another team play that hard, harder than us for 40 minutes," DiVincenzo said.