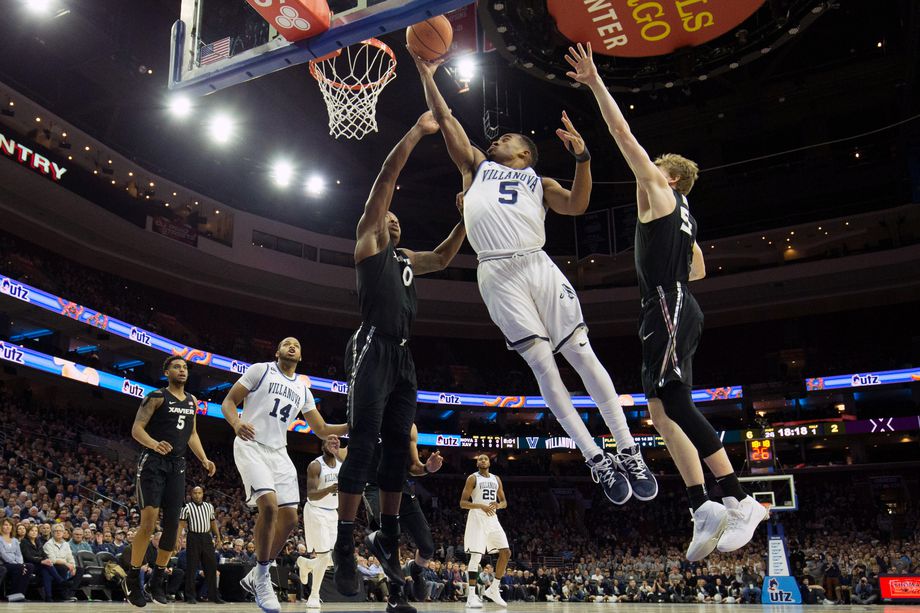 PHILADELPHIA – Villanova got its defensive swagger back here last night, shutting down high scoring Xavier, 89-64, in a Big East game before a crowd of 12,765 at the Wells Fargo Center.
The top-ranked Cats (15-1, 3-1), who had struggled with defense since Christmas, rolled to a 42-28 halftime lead, then limited the 10th-ranked Musketeers (15-3, 3-2), who had averaging 85.6 points, to their lowest scoring output of the season.
They completely neutralized Xavier's two leading scorers, guards Trevon Bluiett and J.P. Mecura, holding them to a combined 16 points on 6 of 21 shooting and limited the Musketeers, arguably one of the league's top three teams, to just 3-for-17 on three point attempts.
This dominant performance had to be was a revelation for coach Jay Wright, who watched his team go through a defensive meltdown during its first three Big East games, giving up 85 points in a 101-85 conference at DePaul, 101 points in a 101-93 Dec. 30 loss at Butler and 90 in a 100-90 victory over Marquette here in this arena last Saturday.
"We got into some bad habits before Christmas and didn't have enough time to correct them in practice before the league season started," Wright said. "Our young guys, (6-9 freshman) Omari Spellman, (6-8 freshman) DaDa Cosby-Roundtree and even Donte (DiVincenzo), didn't notice it. They were like, 'we're scoring 100 points. We're winning. What's the problem?' But we started to see it in our Big East opener against DePaul and it just blew up on us against Butler. Butler made a lot of shots that game but they also got a lot of rebounds off missed shots.
"It took some of our older guys, Jalen (Brunson), Mikal (Bridges) and Phil (Booth), to impress it upon them them in practice this week."
The message must have sunk in.
Villanova, which shot 55.2 percent, put 5 players in double figures, made 12 threes and committed just eight turnovers, played like the most efficient team in the country. The 6-3 Booth, a red shirt junior guard who was red shirted last year with an inflammation, led the Cats with 21 points on 8 for 11 shooting. Brunson, who has the best basketball IQ of any point guard in Division I, finished with 17 points, 5 assists and just one turnover.
The Big East has seven teams who have NCAA potential. But when Villanova defends like this, the Cats once again look like the team to beat in the regular season.