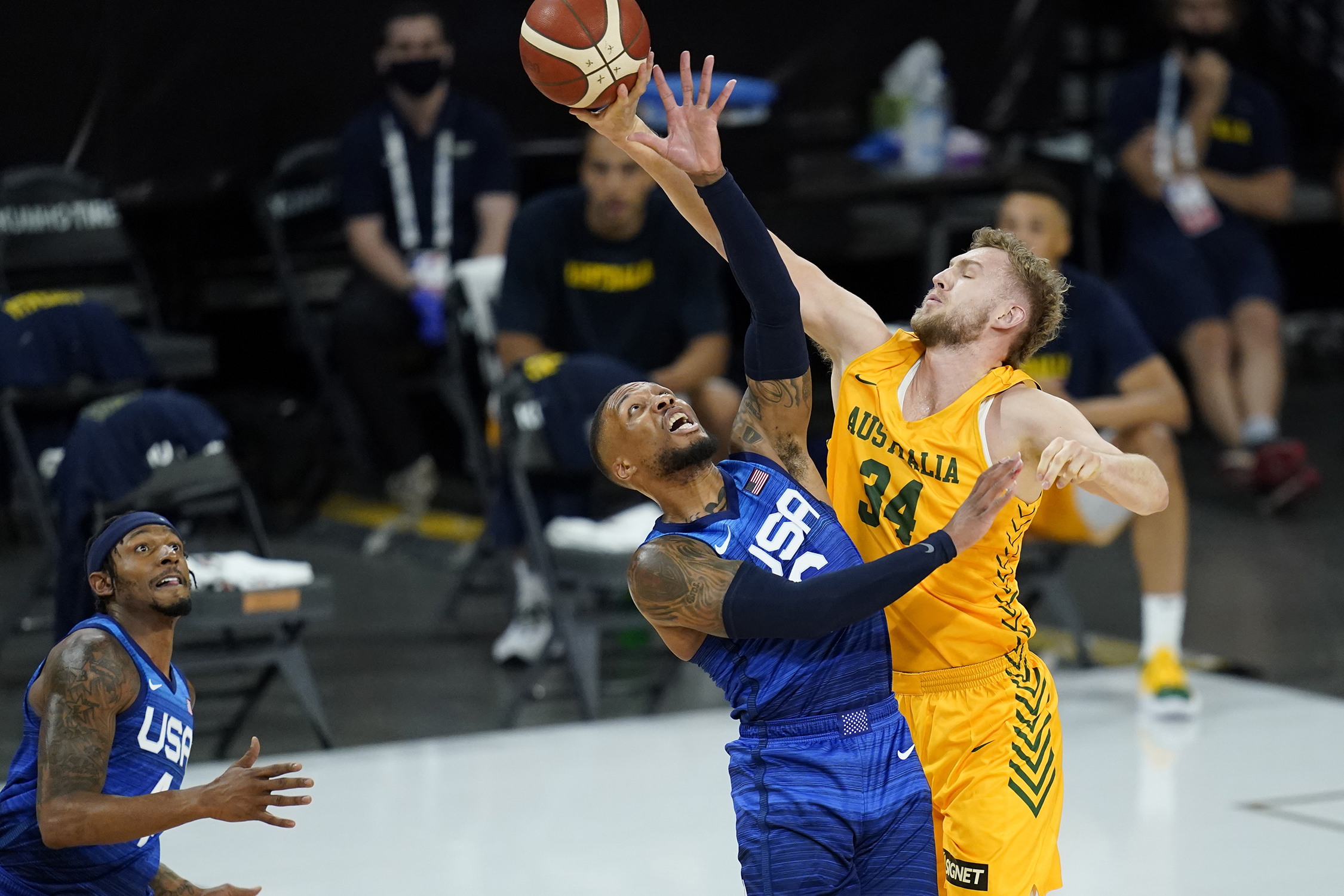 Team USA got another stark reminder last night this Olympic tournament is not going to be as easy as it seemed.
Australia handed the star studded Americans a second straight exhibition loss, winning 91-83, at the Ultra Arena in Las Vegas.
This wasn't supposed to happen. Of course, no one expected 30 point underdog Nigeria to defeat Team USA , 90-87, here last Saturday night.
But Team USA had no answers for veteran guard Paddy Mills from the San Antonio Spurs, who scored 10 of his 22 points in the fourth quarter as the veteran  Boomers out executed the sloppy Americans down the stretch. Mills will be the first indigenous citizen to carry the Australian flag in the opening ceremonies at Tokyo, constantly carved up in the American's defense and the Boomers, who played the bulk of the game without their starting 6-10 big man Aron Baynes of the Toronto Raptors, who was injured in the first quarter, used their size to bother Team USA defensively in the half court when the game was on the line.
All Star guard Damien Lillard of the Portland Trail Blazers carried the offensive load for Team USA with a game high 22 points, 16 in the first half. Versatile forward Kevin Durant of the Brooklyn Nets added 17 points and guard Bradley Beal of the Washington Wizards chipped in with 12, but the entire USA roster was held without a field goal in the final 4:34 of the game.
Team USA looked like it was in control after taking a 46-37 lead at half. But the Australians outscored Team USA, 19-6, in the final five minutes of the third quarter, without Mills on the floor, to take a 69-64 lead and held on from there. "People may not know much about our team," Mills said. "but we are a deep team. We have a lot of players who can make an impact.
"Tonight it was defense. All defense. We understand for us to be really competitive and achieve our goals. We have hung our hat on defense, especially against a team like the U.S. that can get out in transition and make easy layups and dunks, for us to take that away was pretty impressive for our second game."
Forward Joe Ingles of the Utah Jazz, who knocked down three threes early, had 17 points for the Aussies who got a balanced scoring effort that featured seven different players scoring eight or more points. Forward Matisse Thybulle also pitched in with 12 points 3 assists, 2 rebounds, 2 blocks and 3 steals, stuffing his stat sheet for a team looking for their first medal ever in Olympic competition.
Team USA was short handed, with three players– guard Devin Booker, guard Jrue Holiday and wing Khris Middleton– still participating in the NBA finals which could go until July 22, just three days before Team USA's Olympic opener against powerful France. Booker should help with his perimeter shooting and Holiday is a prime time defensive stopper. But both he and Middleton are basically isolation players and who knows whether any of the three will any legs after a hard fought finals and global travel.
US national coach Greg Popovich attempted to upgrade his team's defense and physicality by inserting center Draymond Green and forward Jerami Grant into the starting lineup for All Stars Bam Adebayo and Jason Tatum. Tatum did not react well to coming off the bench, scoring just eight points on 4 for 12 shooting.
Team USA will try to kick start its Olympic preparations Tuesday when it plays Argentina, a team that lost to Nigeria by 23 in an afternoon exhibition. There is still enough talent to quickly turn this crisis around. But the fear factor is gone and the rest of the world has shown Team USA is more vulnerable than any time since 2004.