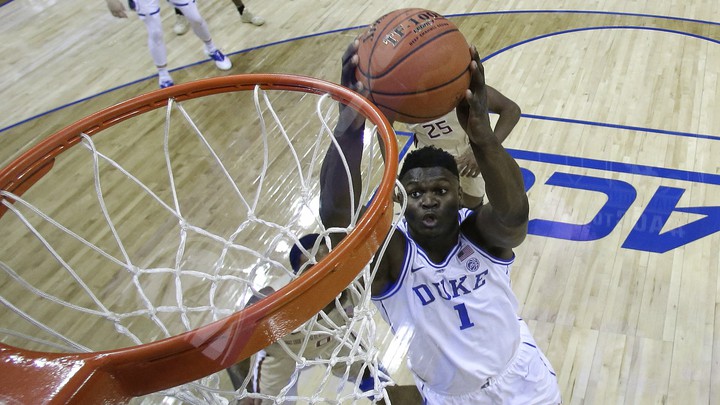 Zion Williamson's college basketball career at Duke only lasted one year. But the former McDonald's All American and No. 1 overall pick in the 2019 NBA Draft but is alleged relationship with sneaker companies is as big a story as all star play according to an investigative story in the Louisville Courier-Post.
A former consultant to Adidas said in a sworn statement that the company provided airfare and other benefits to college players, including the 6-8 former All American power forward. In a deposition prior to a civil lawsuit filed against Adidas by disqualified University of Louisville recruit Brian Bowen Jr. that should start this summer, Dan Cutler said an Adidas representative provided four airline tickets for Williamson's family before he enrolled at Duke.
In a text message from September 2015 to an AAU coach, Cutler, who was paid $85,000 by Adidas to build relationships with elite high school players in hopes of signing them to shoe deals after their college career, also said he arranged to put up Williamson's family in a hotel, adding, "We officially aren't putting any parents up, so let's make sure we all keep that private, please.''
Adidas said in court papers filed April 23 in the lawsuit it is "aware of certain documents suggesting that certain fund transfers to Williamson or his family may have occurred.''
The documents were not included in the lawsuit, and lawyers for Adidas and Bowen declined to provide them to the Courier Journal. But an Adidas attorney, William Taft V, said in a letter filed in the civil lawsuit between Bowden and Adidas that those payments may have included $3,000 a month transferred to Williamson's family for an unspecified period between 2016-17 by Chris Rivers, a top market executive for the apparel company, as well as unspecified payments to Lee Anderson, Zion Williamson's stepfather.
The Raleigh News Observer is reporting Adidas made nine payments to the family worth a total of $5,474. As it turned out, it was a wasted investment. Williamson signed with Duke, a rival Nike school, then signed a shoe deal with the same shoe giant after his one season of college basketball before the lottery pick signed with the New Orleans Pelicans.
In the past, Williamson's former marketing agent Gina Ford accused Williamson of receiving benefits to attend Duke that would have voided his NCAA eligibility for the 2018-19 season. But representatives of Duke said they had conducted an internal investigation and found no evidence of that.
Cutler also claimed he paid for airfare for Duke star guard Frank Jackson to fly back to his home in Utah for fall break and for Jackson's girlfriend to fly to visit him on campus. In a text message, Jackson, who had been high recruited when he signed with the Blue Devils, asked, "Can Adidas pay for my flight? Lol.''
"We can't but it can magically appear,'' Cutler said in a texted reply. Cutler said he paid for the flights himself because he considered Jackson a "good friend.'' Jackson also left Duke after one year and now plays for the NBA Detroit Pistons.