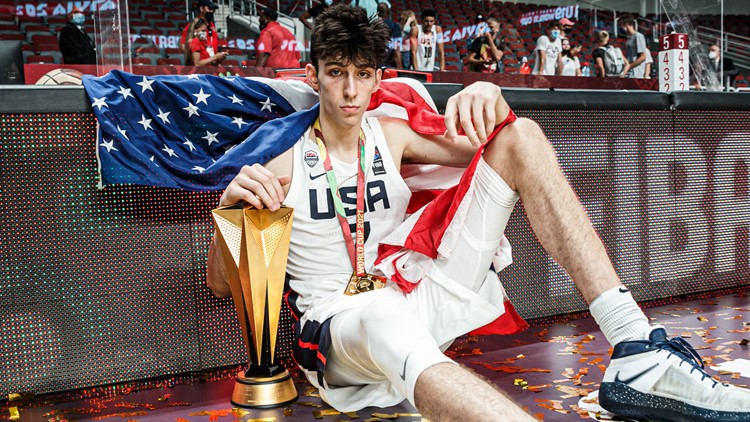 The United States basketball teams have traditionally dominated the U19 World Championship competition, winning eight gold medals and three of the last four since they were upset by Canada when RJ Barrett poured in 37 points during an upset loss in 2017 at Cairo.
A day after the U.S. Olympic team was stunned by Nigeria in a pre-tournament exhibition game in Vegas, the Men's U19 team found a way to put some shine back on the American image, defeating France, 83-81, Sunday in the gold medal final at Riga, Latvia.
But the rest of the world continues to catch up. There was little doubt that Victor Wembanyama, a 17-year old prodigy with a freakish 7-8 wingspan, was the best player on the court. Webanyama scored 22 points, grabbed eight rebounds and blocked eight shots in 27 minutes before fouling out with 2:42 to play or the outcome might have been different.
Wembayama, who has signed to play professionally for ASVEL, Chris Parker's Pro A club team, will not be eligible to enter the NBA draft until 2023. But he is already making his mark. He has an old school game and needs some work on his perimeter game, but he managed to outplay 7-1 Gonzaga recruit Chet Holmgren, the highest ranked prospect in the Class of 2021 for long stretches when he looked like the best young prospect in the world, regardless of age.
Wembanyama was born in Le Chesnay, France. He grew up playing soccer as a goalkeeper and practiced judo. He took up basketball at age 5 and was coached by his mother, a former player. He joined the youth system with Nanterre 92 at age 10. His parents turned down offers from FC Barcelona and ASEVEL. Wembanyama is a true prodigy. In 2019-2020, when he was 15, he began playing for Esporis Nanterre in the LNB Esporis, the French 21 and under league. He made his professional debut last fall for Nanterre 92 and became the second youngest player– at 15 years, nine months and 25 days– to play in the EuroCup. He was names the Pro A Best Young player for the 2020-21 season before leaving to sign with ASVEL
France led 58-50 late in the third quarter but he Americans, who got 16 points from Purdue sophomore point guard Jaden Ivey, chipped away. Holmgren drew a fourth personal on Wembanyama, forcing him to leave the game with 7:22 to play, sank two three throws and on the American's next possession put his team ahead, 69-68 with a reverse layup to finish a baseline drive.