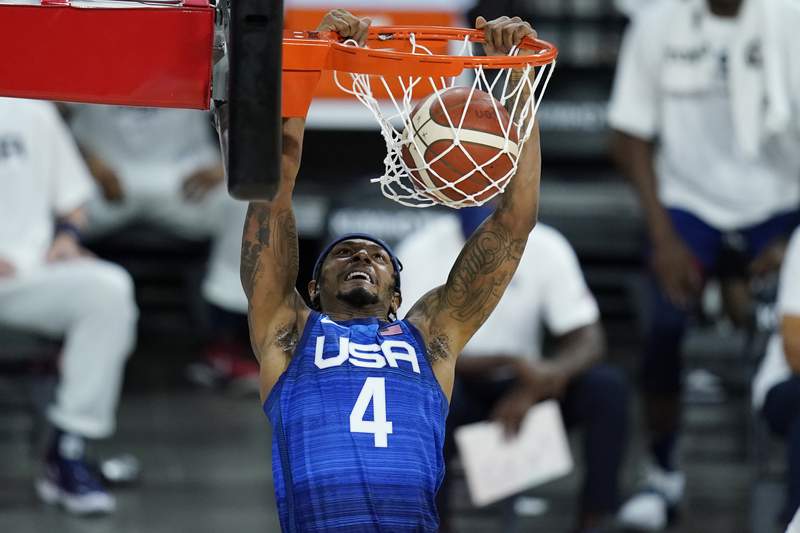 That's more like it.
Team USA woke up from its comatose state last night, taking apart Argentina108-80, to break an uncharacteristic two game losing streak its five game pre-Olympic exhibition tour in Vegas.
Versatile forward Kevin Durant, who is arguably the best player in this tournament, finally began to assert himself, scoring 17 points and grabbing 6 rebounds while making three of five three pointers. Durant, who looked flat in the first two games when he shot just 10 for 26, shook off the rust to make 6 of 9 shots against Argentina, setting the tone with a pair of threes as the Americans took a 10-4 lead. Team USA looked much more comfortable from the perimeter, making six three pointers in the first quarter to take a 33-19 lead and cruised from there.
That should silence the alarm bells that were obvious after Team USA lost to both Nigeria and Australia. The outcome against Argentina was never in question, nor should it have been. Just two days earlier, Nigeria defeated the one time South America power by 23 points.
The Americans look like they are finally starting to mesh. Their ball movement and defensive pressure was much better.
Durant was joined in double figures by fellow starters Damian Lillard, Zach LaVine, Bam Adebayo and Bradley Beal, who matched Durant's 17 points.  Beal, who averaged 31 points for the Washington Wizards, is finally starting to find his rhythm after shooting 1-for-7 against Nigeria and averaging just seven points in the first two exhibitions. Beal made his first four shots, two of them three pointers. U.S. National team coach Gregg Popovich played Beal 30 of 40 minutes in an effort to improve his conditioning and increase his productivity.
One of Team USA's biggest problems in their two exhibition losses was a lack of conditioning after a heavy schedule, which showed up in late game situations. Popovich plugged the athletic Levine into the starting lineup at small forward hoping to dull the affects of the fact All Star Jayson Tatum is day to day with right knee soreness and Levine made a huge statement with 15 points, grabbed 5 rebounds and three assists.
LaVine, who has had more time off as the Chicago Bulls missed the playoffs, was one of the players who appears fresh enough be ready to contribute. He had a spectacular high light dunk in the fourth quarter, rising over a defender and slamming the ball home despite being fouled.
Team USA played its third straight game without Devin Booker, Jrue Holiday and Khris Middleton, who will not join the team until after the end of the NBA finals. Team USA still had four current NBA All Stars in Durant, Lillard Beal and LaVine in the starting lineup– four more than Argentina so anything less than a blowout would have been a major disappointment. Argentina may have won a silver medal in the 2019 World Championships in China, but they are 0-3 in games at Mandalay Bay and have shown limited athleticism. Luis Scolla, a retired NBA starter who is the team's best known player, is 41 years old and his 16 points were an after thought.
Team USA should get a better test Friday when they play a rematch against Australia but they also will have two days off to work on practice and film study.