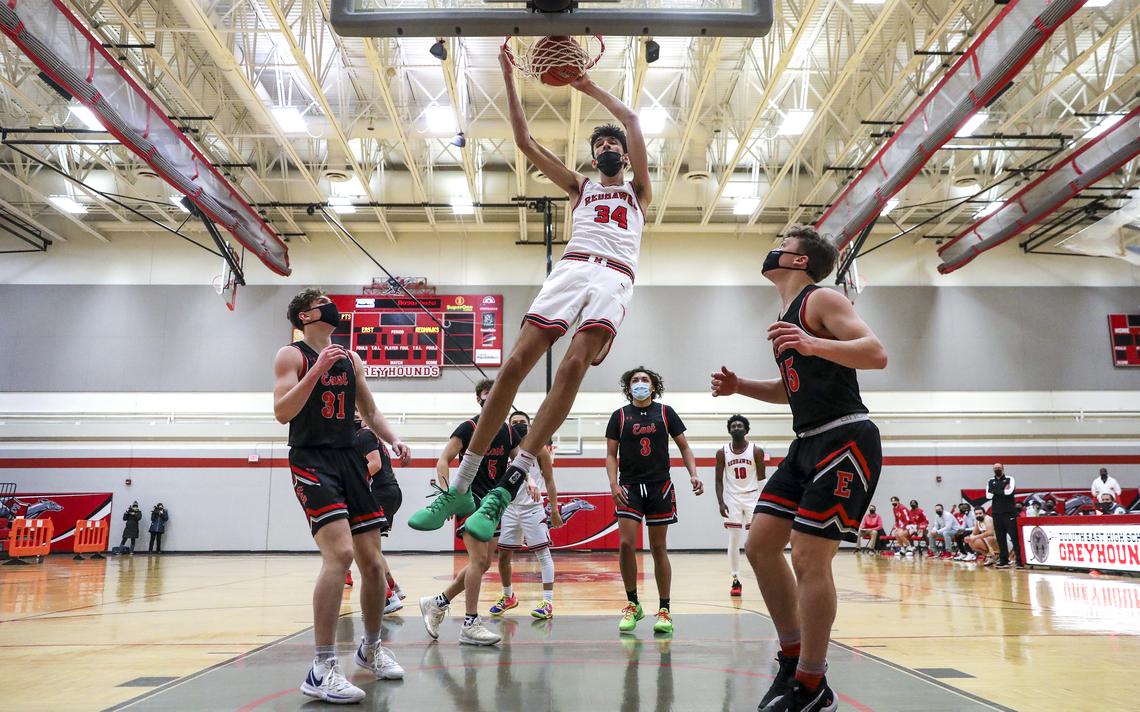 Chet Holmgren, the top ranked high school basketball prospect in the Class of 2021, ended months of speculation about where he would play his college basketball when the lanky 7-1 center from Minnehaha Academy, a private school in Minneapolis announced he would attend Gonzaga in an ESPN televised press conference.
The 18-year old McDonald's All America who won both the Wooden and Naismith High School Player of the Year awards chose the Zags over Georgetown, Minnesota, Ohio State, North Carolina, Memphis, and Michigan. Holmgren's is considered the overwhelming choice to be the first pick overall in the 2022 NBA draft and is already drawing comparisons to 7-3 stretch four Kristaps Porzingis of the NBA Dallas Mavericks.
'The process was hard I had a lot to learn on the go. I had to lean on others and get their advice,'' Holmgren told ESPN. "My dad went through it, and coach Larry Suggs with Jalen. I kept getting consistent advice that I will get a feeling of when I know. Not to over analyze everything because everything sounds good. Nobody sells their weakness."
"It was Gonzaga's consistent approach how versatile they are on the court and their offensive style. They take their talent and tweak their system based on personnel. They know how to put it together.''
Mark Few and the Zags had been overwhelming favorites to land Holmgren, although going to the G-League apparently was also an option.
"He is a super honest standup guy,'' Holmgren said. "He's a fan of the game and I hear he is a good fisherman, too. He continues to learn about the game and loves what he is doing.''
Holmgren took official visits to Gonzaga and Ohio State before the pandemic shut down in person recruiting. He also went on unofficial visits to Minnesota, Maryland, and Georgetown.
The fact his former high school and AAU teammate Suggs enjoyed enormous success as a freshman with the Zags, punctuated by his 37 foot game winner to beat UCLA in overtime of the national semi-finals, and should be a top 5 pick in the 2021 NBA draft likely did not hurt their position. Holmgren admitted Suggs had a lot of influence on his final decision. "I was able to speak to someone that I know, and trust and I've known for a long time,'' Holmgren said during his press conference. "We had a lot of casual discussions. I could hear it firsthand from him. I would watch him play and watch how the team played. Then we would talk. It is a culture where everybody is willing to work."
"But I also see myself fitting in, not only with the coaches, the players, the system, and the school, but being able to look back and seeing past people with a skillset that is similar to mine and how they used them and how they adjust every single year to the different skillsets that they have on the team and make it work. That's a pretty hard offer not to take on.''
Holmgren entered Minnehaha as a 6-2 sixth grader. He grew eight inches by the time he was in ninth grade, following in the footsteps of his dad Dave, who played for Minnesota in the 80's after starring at Minneapolis Central and Prior Lake high schools. Chet rose to fame after a YouTube video went viral of him dribbling past and dunking over Steph Curry the NBA All Star's camp in the summer after his sophomore season. He attracted more national attention earlier this season when he outplayed 6-9 Eboni Bates, the No. 1 junior in the country who was touted as the best high school prospect since LeBron James, as Minnesota's Team Sizzle defeated Ypsi Prep from Michigan, 78-71, in an ESPN nationally televised victory between the two teams. Bates scored 36 points with 10 rebounds, but Holmgren dominated both ends of the floor, with 31 points on 13 of 18 shooting, 12 rebounds and six blocked shots.
Holmgren had a dominant senior year, averaging 20.8 points, 12.6 rebounds, 4.5 assists, and 4.7 blocks while shooting 80 percent from the field as Minnehaha won its fourth straight state title.
Holmgren went for 18 points 13 rebounds and 87 assists in an 80-29 victory in the Class AAA title game.
Holmgren presents unique challenges on the floor because for his perimeter skills and his ability to shoot from beyond the arc gam combined with his talent to finish plays, physical size and enormous wingspan.  He is an elite shot blocker and rim protector. He is versatile offensively with his scoring ability and secure hands for lob catching ability. "He's the greatest mismatch in the high school game,'' ESPN's high school expert Paul Biancardi said.
Holmgren is the second five star recruit to join Gonzaga's class this year, following No. 3 rated Hunter Sallis of Omaha, NE. 6-8 ESPN top 100 power forward Kaden Perry from Battleground, WA, is also entering school next year while another top 100, 6-8 forward Ben Gregg from Portland, OR, who graduated Clackamas HS in December, and enrolled early in college Rounding out the class is 6-9 Fanbo Zeng, the no. 33 prospect on the ESPN 2022 list from Windermere Prep in FL, who has reclassified up and will enroll this summer.
Holmgren's decision drew some comments from fans of schools in larger conferences, who claims Holmgren's wouldn't receive the necessary development in a smaller league like the WCC. But Few has a history of developing big men like Ronnie Turiaf and Kelly Olynyk who have gone on to be successful in the NBA and Holmgren is more polished than them coming out of high school.
This is just another huge step forward for Mark Few's program. The Zags has won at least 30 games for the past five seasons and has played in two championship games since 2017 and this past season won 31 straight games before a loss to Championship Game to Baylor. If 6-10 NCAA breakout star Drew Timme returns, they should have a balanced nucleus to surround Holmgren and should are the early favorite to win the tournament in 2022.