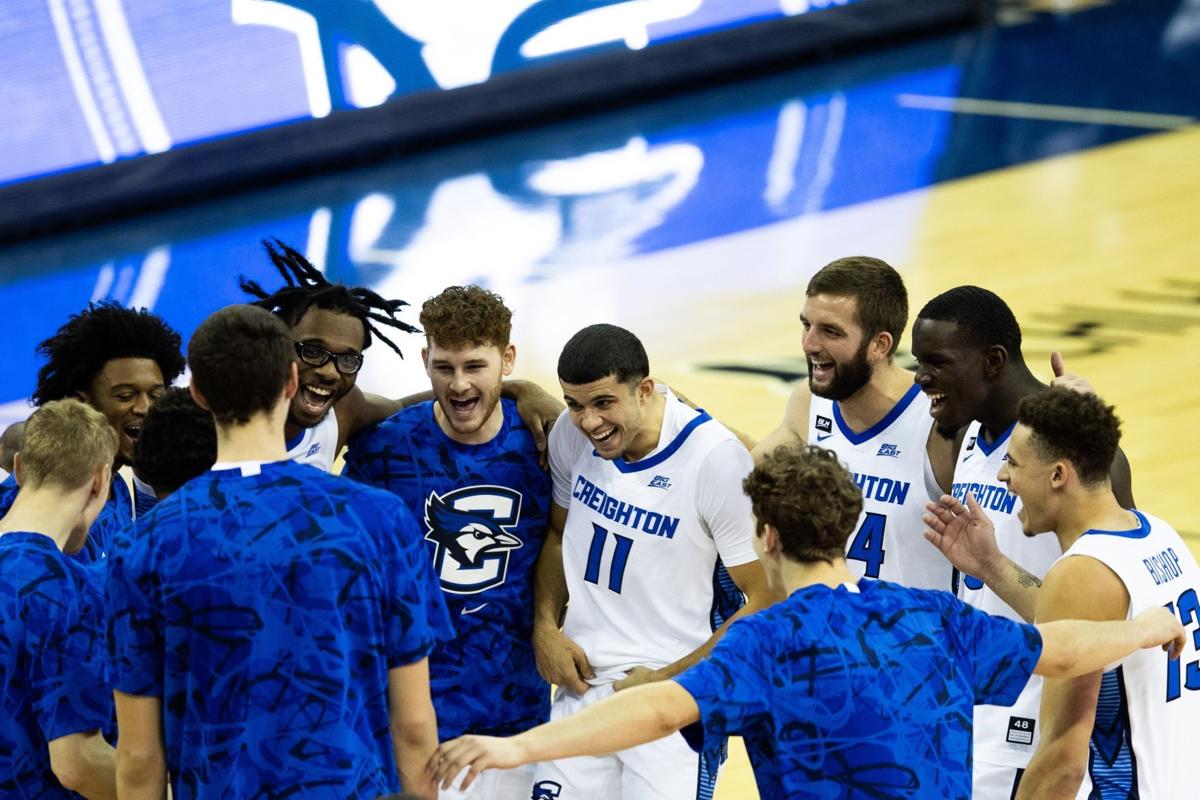 Creighton was a nationally ranked program this past year, rising as high as seventh in the AP poll and finishing second in the BIG EAST before advancing to the Sweet 16 of the NCAA Tournament for the first time since 1974.
But it now appears Greg McDermott's Blue Jays will have to rebuild from scratch, resembling a fallen house cards instead of the perennial Top 25 program the nation has watched on FS1 during his tenure at the Jesuit school. Senior wing guard Mitch Ballock, one of the best three-point shooters in school history, has signed with an agent and will pursue professional opportunities.
Ballock is on track to graduate in May, and is one of five starters from this years' team who will not take advantage of the extra year of eligibility granted by the NCAA because of the pandemic. Junior All BIG EAST guard Marcus Zegarowski, senior forward Damien Jefferson and senior guard Denzel Mahony have also declared for the draft, while forward junior forward Christian Bishop has transferred, choosing Texas over college basketball royalty North Carolina, and Kansas.
That core of players also won a share of the BIG EAST regular season title in 2020 and led the Jays to a combined 46-16 record in the past two seasons. They supplied Creighton with 79.8 percent of its scoring production. No team in Division I will have to replace that amount of scoring heading into 2021 – 22 season.
And that's not all. Assistant coach Terrence Rencher is said to be taking a similar position at Oklahoma State under Mike Boynton, who like Rencher, played high school basketball in the New York CHSAA, and another assistant Paul Lusk, the former Missouri State head coach has been hired by his old boss, Matt Painter at Purdue.
Of course, few teams have gone through an extended period of turmoil that haunted the team after McDermott used a racially insensitive plantation analogy during a locker room speech following a late season loss. "Guys we got to stick together,'' he said. "We need both feet in. I need everybody to stay on the plantation. I can't have anybody leave the plantation.''
Did he mean reservation? That would have been bad as well.
The school allowed McDermott to coach the next game, a critical BIG EAST contest at Villanova on Wed. March 3 before suspending him for four days. McDermott missed the Jays' Saturday 93-73 home victory against Butler, a game that coached by assistant Alan Huss. Ty Washington, an elite guard prospect from Compass Prep in Chandler, AZ decommitted after McDermott's outburst. "It was definitely the controversy I really wanted to attend Creighton. It felt like the situation and the plan coach McDermott had for me was good. So, it was kind of heartbreaking once I found out what he said. It is just like the day and age we are living in—a police officer just killed another young black man for no reason—him saying something like that it just not right.''
Washington, who would have been the highest rated prospect to sign with Creighton in modern history, is leaning toward signing with Auburn.
The coach later issued an apology, saying he used a terribly inappropriate analogy about staying together as a team despite the loss. "I immediately recognized my egregious mistake and quickly addressed my use of such insensitive worlds with my team I have never used that analogy and that is not indicative of who I am as a coach or a person.''
Five Creighton basketball players—Bishop, sophomore guard Shareef Mitchell, Mahoney, sophomore guard Antwann Jones and Jefferson, explained in a short pre-game video prior to the Butler game why they were hurt by McDermott's remarks.
"James Baldwin said not everything that is faced can be changed, but nothing can be changed without being faced,'' Bishop said.
"For slaves, life on the plantation was filled with mental, emotional, physical, psychological and sexual abuse,'' Mitchell said. "You were owned as property and not human. Slaves had no rights and no voice. They were branded like cattle, forced from their homeland, and stripped of their culture, language and basic human rights. They worked 18 hours a day six days a week. Any sign of wrongdoing such as a lack of productivity, not following instructions or resistance would result in beating or death and that is why. . .''
The video ended in silence with all Creighton players locked arm in arm on the court. Afterwards, "Life Every Voice and Sing" was played. Neither the Blue Jays or Bulldogs were on the court for the national anthem.
A sixth player who didn't speak, Zegarowski, said that he was hurting from what McDermott said. But, at the same time, he indicated his coach had been a huge mentor for him, and knew he would take a bullet for him and everybody in that locker room, including the coaching staff.
None of the departed players have specifically mentioned the remarks as the catalyst for the mass exodus, but we are left to wonder whether the problem inside the locker room was bigger than it appeared.
Creighton will try to rebuild with youth and first-time transfers who will be eligible immediately, not always the best choices in a league, like the BIG EAST, where success tends to be based on player development and experience. But it's the only option remaining.
The 2021-22 roster looks like this: Senior guard Alex O'Connell (3.4 points), who started his career at Duke, Jones (3.4 points), Mitchell (3.3 points), 7-0 freshman Ryan Kalkbrenner (5.9 points) and two injured international redshirt freshmen—guard Rafi Androniksahvili from the Republic of Georgia and 6-9 forward Modestas Kancleris from Lithuania. The Jays signed three recruits—6-9 Mason Miller, son of NBA All Star Mike Miller, of Houston HS in Germantown, TN. who was selected the state's Mr. Basketball, point guard Ryan Nembhard of Monteverde Academy in FL, and 6-4 guard John Christofilis of O'Dea HS in Seattle, WA. The Jays still have four scholarships left to offer.