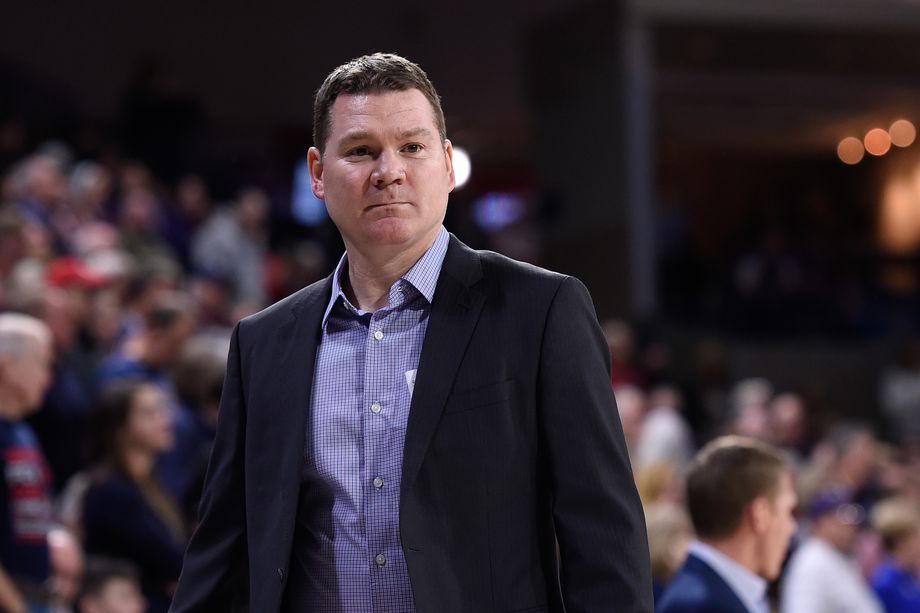 Arizona has hired Gonzaga assistant Tommy Lloyd as its new head basketball coach, replacing Sean Miller.
The Wildcats chose the 46 year old Lloyd over three other candidates with Zona ties—Damon Stoudamire of Pacific, Josh Pastner of Georgia Tech and NBA Lakers' assistant Miles Simon.
The official announcement is expected later this week.
Is everybody happy? There were voices of dissent from some of Lute Olson's former players who felt the job should have been be kept in the family, much like North Carolina. Gilbert Arenas, the outspoken former AU star, said Lloyd didn't have the credentials for the job. And Richard Jefferson said, "I don't even want to say his name because he doesn't deserve it. He's an assistant, Ok. You assist.''
We like Lloyd's chances better than they do. We saw what Mark Few did when he was elevated to replace Don Monson at Gonzaga after Monson left for Minnesota.
Lloyd, who has been at Gonzaga since 2000, has no head coaching experience but has established himself as the most resourceful recruiter in the country during his time at Spokane. He helped build the small Jesuit school into national power, that is now is the gold standard for the West Coast Conference and other non BCS programs through his international recruiting, bringing in dozens of prospects from overseas and Canada, including NBA draft picks Ronny Turiaf of France, Robert Sacre and Kelly Olynyk of Canada, Domantas Sabonis of Lithuania, and Rui Hachimura of Japan.
That could be helpful to Arizona, which has stocked its roster with international players in the last few years, including Lars Markkanen from Finland and DeAndre Ayton from the Bahamas, who was the first pick overall in 2018; as well as three others with international ties– guard Josh Green from Australia, forward Zeke Nnaji of Nigeria, and Nico Mannion, who has dual citizenship with the U.S. and Italy—who were taken in the 2020 draft.
Lloyd was also instrumental in helping Gonzaga upgrading his national recruiting. The Zags signed two Top 10 prospects—guards Jalen Suggs of Minneapolis and Hunter Sallis of Millard, Neb.—in the past two seasons and the Zags are in position to sign 7-1 center Chet Holmgren from Minneapolis, Suggs' former high school teammate the No. 1 recruit in the class of 2021.
Lloyd, who has been a member of Few's coaching staff for the past 20 years, has a signed contract to become Gonzaga's next coach when Few retires. He turned down multiple opportunities to interview for other jobs in the past several years. But Arizona, despite the cloud hanging over the Cats' program, is considered one of the elite jobs out West.
The job opened after the delayed firing of Miller, who won 302 games and five Pac-12 regular season titles and coached the Cats to three Elite Eights but was working under a shadow of controversy after a federal investigation into corruption into college basketball after former assistant Book Richardson pleaded guilty to one felony count of conspiracy to commit bribery after being accused of accepting $20,000 to steer Arizona players to aspiring agent Christian Dawkins. During Dawkins' trial, prosecutors played an FBI wiretap in which Richardson told Dawkins that Miller was paying $10,000 to Ayton. Miller had denied ever paying players to attend Arizona.
The NCAA charged the program with four Level I violations, according to a notice of allegations. The program was it with two alleged instances of academic misconduct, while Miller was charged with failure to promote an atmosphere of compliance and monitoring his staff.
Arizona self-imposed a one-year postseason ban this past season, then took action on Miller a month after the end of the regular season after the conclusion of the NCAA tournament. The timing lines up with Gonzaga's run to the national title game and led to speculation Lloyd was AU's top target all along.
Arizona is still awaiting sanctions from the Independent Accountability Resolution process, but it seems unlikely punishment will come down before 2022 and it is possible Lloyd's first season will not include any disciplinary action.
Lloyd eventually will have to deal with that, as well as second-guessers who will constantly compare everything he does to Olson and will question why the school didn't hire one of Olson's favorite sons, Stoudamire. But this is a brave new world. Lloyd has enough young talent like freshmen Bennedict Mathurin and Azoulas Tubelis on a promising roster to make some waves in the Pac-12.