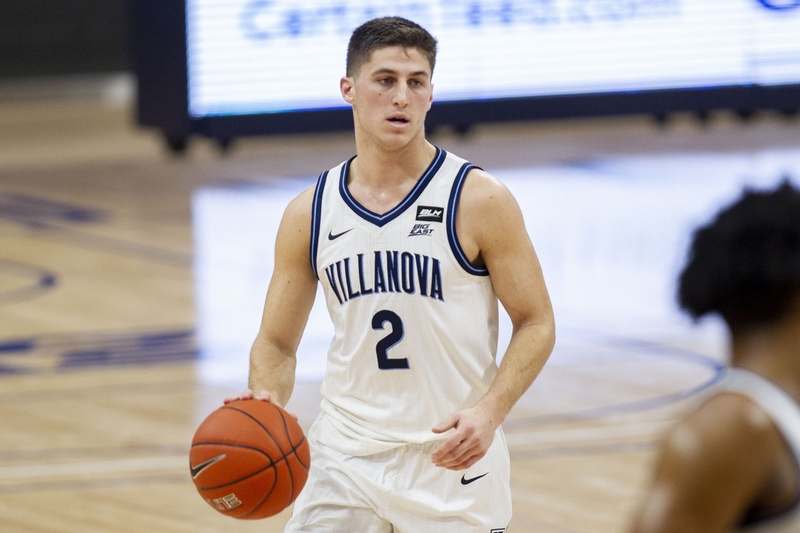 Just recently Villanova's Jay Wright was selected as a Finalist for the Naismith Hall of Fame, and it appears to be just a matter of time before this member of the US Olympic basketball team coaching staff is inducted into the Hall.
Wright has rapidly emerged as one of the great coaches in the modern history of college basketball. He coached the Cats to two national championships in 2016 and 2018, and an his teams have reached the Sweet 16 seven times including an unexpected appearance during the pandemic season of 2020-21 without his starting point guard and team leader, Collin Gillespie, who was out after tearing the MCL of his left knee in early March and missed the rest of the season.
His preparation and team's performances in the Big Dance this past March Madness again demonstrated his Hall of Fame abilities.
Now, the Cats should be ranked in the preseason Top 10, a clear favorite to win the BIG EAST, again, and a trendy pick to return to Final Four, again, after word leaked out of the Main Line campus that the 6-3 Gillespie, a senior, the co-BIG EAST Player of the Year, is taking advantage of the NCAA decision to allow all winter sport student-athletes another year of eligibility due to the pandemic. Jermaine Samuels, a 6-7 senior who was a three-year starter, is taking advantage of the same loophole. Neither was expected to be drafted this year, but both could play an important role as Cats' fans now anticipate another deep run in March.
The Cats will lose versatile 6-9 sophomore forward Jeremiah Robinson-Earl to the NBA draft, and that was to be expected, as well as 6-9 pure shooting senior Cole Swider has taken his game up the Pennsylvania Turnpike to Interstate 81 North and transferred to Syracuse where he figures to get more playing time in Jim Boeheim's zone defense than he would with the log jam of forwards Wright has already preparing for next season in the Davis Practice Center.
But the Cats are more than deep enough to absorb the losses of Robinson – Earl and Swider. Gillespie, 6-4 junior guard Justin Moore and Samuels could all be pre-season All BIG EAST selections. Trey Patterson a 6-8 freshman forward from Rutgers Prep in Somerset, NJ who enrolled early this past year, may be pre-season Rookie of the Year, and the Wildcats should have the deepest rotation in a conference where there are no nights off, with 6-4 starting senior wing Caleb Daniels, 6-7 senior forward Brandon Slater, 6-8 redshirt sophomore Eric Dixon, now healthy, 6-5 junior guard Bryan Antoine, and 6-5 junior point guard Chris Arcidiacono who have all demonstrated a value to the team this past season.
Then, there are the three incoming freshman recruits, 6-5 guard Jordon Longino of Germantown Academy in Fort Washington, PA, 6-3 guard Angelo Brizzi of the Highland School in Warrenton, VA, and 6-9, 245-pound forward Nnanna Njoku of the Sanford School in Hockessin, DE.
Gillespie, a coach on the floor if there ever was one, was considered one of the best point guards in the country before the injury. He was a three-year starter who got key minutes off the bench serving as very capable understudy to current Chicago Bull, Ryan Arcidiacono, his freshman year during Villanova's 2018 national championship run.
"Since my injury and over the last few months supporting my teammates from the sidelines, I have had much time to think about my future,'' Gillespie said. "I have received valuable feedback and had many conversations with my family and the coaching staff allowing me to make a confident decision regarding this upcoming season. That being said, I'm going to take advantage of this extra year and come back to Villanova! It's going to be a blessing to put the Villanova uniform on for one last year and continue to grow as a player, student and person. And lastly to my brothers, Run it back!''
Gillespie averaged 14.4 points and 4.7 assists during the 2020-21 season.
Samuels, a forward, has started 76 games over the past three seasons for the Cats. He averaged 12 points, 6.4 rebounds and 2.5 assists this past season, shooting a career high 37.1 percent from three-point range. Samuels stepped up following Gillespie's injury, scoring at least 15 points in four of the last five games when the 18-7 Cats defeated both Winthrop and North Texas in the first two rounds of the NCAA Tournament before losing to eventual national champion Baylor in what was a competitive game for the first 30 minutes.